About Us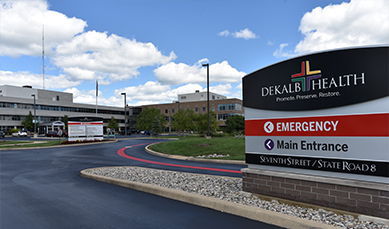 World-Class Care. Community Pride.
At DeKalb Health, our investments in state-of-the-art facilities and partnerships with top family physicians and specialty groups mean that you never have to look past DeKalb County for the very best care. Our commitment is also reflected in our investments of time, talents and resources in local schools, businesses, charitable organizations and other worthy causes to help ensure a healthier community. We're proud to be your neighbor, and you can be sure we'll be here, taking care of you for generations to come.
About DeKalb Health
DeKalb Health opened its doors in 1964. It was built with voluntary contributions of the citizens of DeKalb County. Today, the hospital remains as an independent healthcare organization, whose main mission is the provision of high-quality healthcare services to the citizens residing in its service area. DeKalb health prides itself on bringing "Better Health for Those Close to Us."
DeKalb Health is a not-for-profit, acute care facility located on State Road 8 in Auburn, Indiana.
The hospital features a wide variety of inpatient and outpatient services.