bloom: cultivate your health
Location
Kruse Expo Center
5634 County Road 11A
Auburn, Indiana 46706
---
Contact
Sarah Payne, DeKalb Health Foundation Director
260.920.2048
---
Sponsorships and booth spaces are available. Contact Sarah Payne, DeKalb Health Foundation Executive Director, at 260.920.2048 or spayne@dekalbhealth.com.

Tickets are $50 for open seating and reserved tables of eight for $500 are also be available.
You may purchase your tickets online or you may also purchase tickets at the hospital by calling Lana Buchs at 260.920.2511, emailing lbuchs@dekalbhealth.com or stopping by the Human Resources office during normal business hours.
PLEASE NOTE: Tickets will not be available at the door the day of the event. Ticket sales end February 1, 2018.

Our guest speaker Dan Harris' book "10% Happier" will be available for sale onsite at bloom. Download the associated app in the App Store or Google Play.
About bloom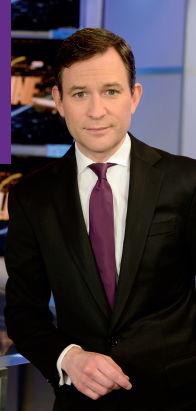 The DeKalb Health Foundation will host a new event on Friday, February 9, 2018 at the Kruse Expo Center from 9:30 a.m. to 4 p.m. Bloom will be a day to cultivate health while supporting the DeKalb Health Foundation.
Because of the generous support of The James Foundation, we are excited to announce that bloom keynote speaker will be award winning ABC News Anchor and #1 New York Times Best-Selling Author, Dan Harris. In an interactive presentation, Harris will explore the power—and practicality—of meditation, which he believes will be "the next public health revolution." Harris will share his thoughts on the philosophy that mental fitness will, in the not too distant future, be as socially acceptable and sought after as physical fitness.
"DeKalb Health values supporting our communities' health and we know bloom will be a great opportunity to engage in this effort," shared Sarah Payne, Executive Director of the DeKalb Health Foundation. "A healthy community is important to businesses and individuals and we want to be a leader in this initiative."
Harris draws from his own experience—he discovered meditation after failing to find happiness through workaholism and substance abuse. In his bloom presentation, Harris will explore how and why some of today's most successful organizations (like the Super Bowl-winning Seattle Seahawks, Google and even the U.S. Army) have incorporated meditation as a way to both improve corporate culture and boost employee performance and well-being. Harris' presentation is just one of the special activities planned for bloom. The day will begin with a light breakfast and inspirational welcome at 9:30 a.m., followed by customizable breakout sessions that allow attendees to explore the health-related topics most central to their needs.
The day events will also include a vendor health and wellness fair.
Events like bloom allow the DeKalb Health Foundation to continue to support the technology, infrastructure and programming needs
of DeKalb Health.


Breakout Sessions

Sessions 1-4 (Choice of 1)
Cardiac Health by the Decades
Presenter: Dr. Roy Robertson, PPG Cardiology
Sponsor: Parkview Health
Mazimizing Your Personal Sancutary - Explore How Your home Impacts Your Health
Presenter: Nancy Nokaya, Essentials and Frosting
Sponsor: Essentials and Frosting
Your Financial Health and Vitality
Presenters: TBA
Sponsor: Oak City Partners
What You Don't Know Might Surprise You! "Big City Healthcare" In a Hometown Hospital
Presenters: Dr. Bret Kueber, DHMG and Jacob Clendenen, DeKalb Health PharmaCare
Sponsor: DeKalb Health
Sessions A-D (Choice of 1)
Between a Rock and a Dangerous Place
Presenters: Dr. Brian Rosman, PPG Urology & Dr. Hisham Elhassan, PPG Colon & Rectal Surgery
Sponsor: Parkview Health
Stretching Your Mind, Body, and Soul
Presenter: Randi Wells, Holy Yoga
Sponsor: YMCA of DeKalb County
In The Know- The Insider's Guide to Healthcare
Presenter: Dr. Scott Armstrong, DHMG
Sponsor: DeKalb Health Medical Group
Pain and Inflammation: Basic Principles of Using Diet and Exercise to Fight Chronic Pain
Presenter: Dr. Brandon Galbraith, ProActive Spine & Joint
Sponsor: Lake City Bank
---