Chief Executive Officer to Resign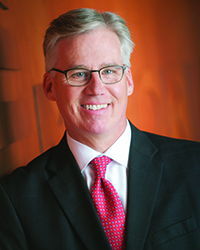 (November 28, 2017) DeKalb Health announced that Craig Polkow, President and CEO has resigned from the hospital to accept a position with a larger healthcare system in southern Indiana.
A transition plan will be developed at the hospital's board meeting on Thursday.
"I'm immensely proud of my time at DeKalb Health," said Polkow. "I am fortunate to have had the opportunity to be associated with so many dedicated team members and medical professionals whose vision and passion for a better DeKalb Health was instrumental in helping build a solid foundation for the future."
Craig Polkow joined DeKalb Health as President/CEO in August of 2015 and was instrumental in guiding the hospital through several major initiatives and a number of positive changes for DeKalb Health, such as a strategic plan, the EPIC medical records conversion, campus refresh projects, leadership and physician recruitment, and a renewed focus on team member well-being.
Incoming Board Chair, Dr. Doug Morrow observed, "Our hospital has been fortunate to be under Craig's sound leadership for over two years." "He has made great strides in his efforts to sustain our independence and we are committed to continuing those efforts."
"The hospital's success is due in large part to Craig Polkow's leadership." Morrow stated. "We look forward to the continued execution of the strategic plan Craig helped initiate, and building on the foundation he set in place."
"We have truly enjoyed our working relationship with Craig and we wish him nothing but the best in his next endeavor." said Morrow.
An interim CEO will be named and a search process for a new CEO will be implemented.