Commit To Be Fit 2018 Winners Announced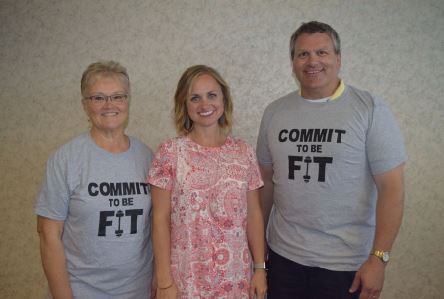 Commit To Be Fit 2018 had 89 registrants and 42 qualified for the two $500 level prizes (one male and one female) winners were selected from a random drawing. To qualify, participants must have completed 5 of 6 education sessions, completed 5 of 6 fitness challenges, and submitted their log of activities from the six-month program.
Congratulations to our 2018 Commit To Be Fit winners!
Chris Strabala (pictured on right)
Auburn - 25 lb lost
Molly Allen (pictured on left)
Auburn - 22.6 lb lost


Program Overview
Participants were engaged and challenged with sustainable exercise and nutrition guidance, customizable to age, health and fitness level. Activites of the wellness program included: biometric screenings, health education sessions and presentations, and fitness challenges. Presentations consisted of topics in healthy eating, diets (Keto and others), exercise, meal planning, meal prep, and grocery shopping.



2018 Presenters
Brandon Galbraith, DC of Proactive Spine and Joint
James Ingram, MD, Chief Medical Officer of DeKalb Health
Jenn Gibson, Corporate Health & Wellness Coordinator of DeKalb Health


Premium Sponsors
DeKalb Health
ProActive Spine and Joint
YMCA of DeKalb County


Program Sponsors
Auburn Essential Services
Tempus Technologies
Oak Partners
Wright Massage
Smit-Ts
2018 Commit To Be Fit Participants