Community Foundation Pledges $1000 Sponsorship to DeKalb Health Halloween Fair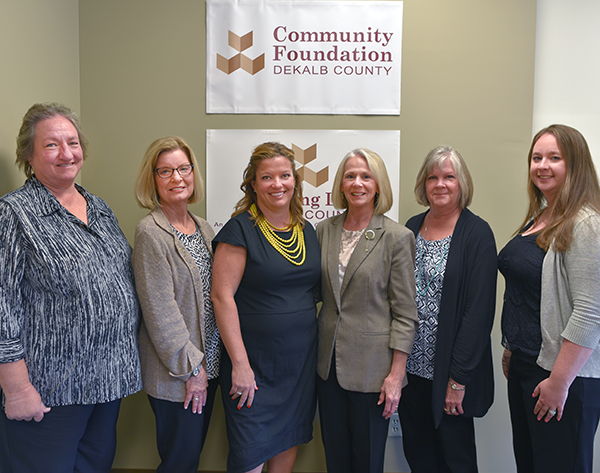 Pictured from left to right:
Mandy Haynes, Community Foundation Accountant; Judy Sorg, Community Foundation Learning Link Director; Sarah Payne, DeKalb Health Community Outreach Coordinator; Wendy Oberlin, Community Foundation Executive Director; Diane Wilson, Community Foundation Grants, and Scholarship Manager; Ashton Willis, Community Foundation Administrative Assistant

AUBURN, IN (September 19, 2017) The Community Foundation of DeKalb County pledges support to the DeKalb Health Halloween Fair with a $1000 Boo Benefactor sponsorship.
Event sponsorships and vendor booth spaces are now available. Contact Sarah Payne at 260.920.2048 or spayne@dekalbhealth.com. Donor levels include Spooktacular Supporter $2500, Boo Benefactor $1000, Frightful Friend $500, Grateful Goblin $250, customized sponsorships and gifts in kind.
The Healthy Halloween Fair is a free and fun community event that is an annual tradition, where kids 11 and younger can enjoy healthy treats, games, a chance to win prizes, spooky music, and a haunted area. Sponsored by DeKalb Health and the Auburn police and fire departments, this year's event will be held on Thursday, October 26, from 6 – 8 p.m. at the National Military History Museum, 5634 County Rd 11-A in Auburn.
For more information, follow us on Facebook or visit DeKalbHealth.com.