DeKalb Health Family Birthplace wins national award for care quality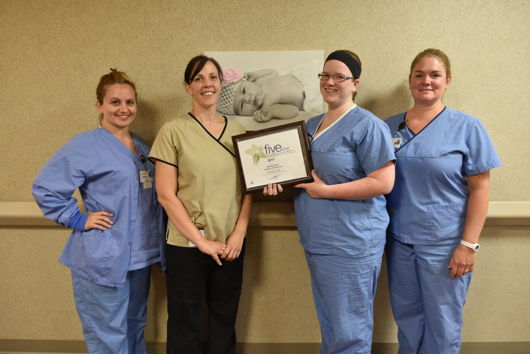 (August 22, 2017 - AUBURN, IN)—DeKalb Health received a Five Star Excellence Award for the overall quality of care in its inpatient OB/GYN services from a national health care consulting and research organization. They have been awarded this designation every year since 2014
The award from Professional Research Consultants (PRC) recognizes DeKalb Health's inpatient OB/GYN services – home of its state-of-the-art Family Birthplace birthing center– for ranking in the top 10 percent nationally among all hospitals in the PRC'S nationwide database. Excellence Awards are based on the percentage of patients who rated DeKalb Health's inpatient OB/GYN services "Excellent" when asked about its overall quality of care during the 2016 calendar year. It is the second time in three years DeKalb Health and its inpatient OB/GYN services have been recognized by PRC with an Excellence Award.
The BirthPlace offers state-of-the-art facilities and an array of services and options, including midwifery, hydrotherapy, childbirth and breastfeeding classes, support groups, a free prenatal vitamin program and complimentary birth planning and consultation.
The BirthPlace at DeKalb Health is staffed with board-certified neonatologists, obstetricians, pediatricians, family physicians, nurse midwives, a lactation consultant and nurses specialized and trained in obstetric care.
Partnering physician groups and providers include DeKalb Health, Auburn OB-GYN & Midwifery, and Women's Health Advantage.
Clinical staff includes:
Angela Russ, RN, IBCLC, Sarah King, RN, Heather La-Follette, RN, Kathi Lyvers, RN, Sara Warner, RN, Cherisse Smith, RN, Jackie Sechler, RN, Vicki Atkins, RN, Mary Bowman RN, Sharon Carpenter RN, Sharon Dillenburg, Unit Assistant, Sherry Hamman RN, Nancy Hill RN, Carla Kohnen RN, Pam Paradise RN, Angela Pritchard RN, Kelsey Olwin, RN, Sara VanAuken RN, Julie Wagoner, LPN, IBCLC, Jan Weibel RN, Stephanie Witham RN, Danielle Zollman RN, and Britte Nihart RN, MSN, CNM, Director of Family BirthPlace.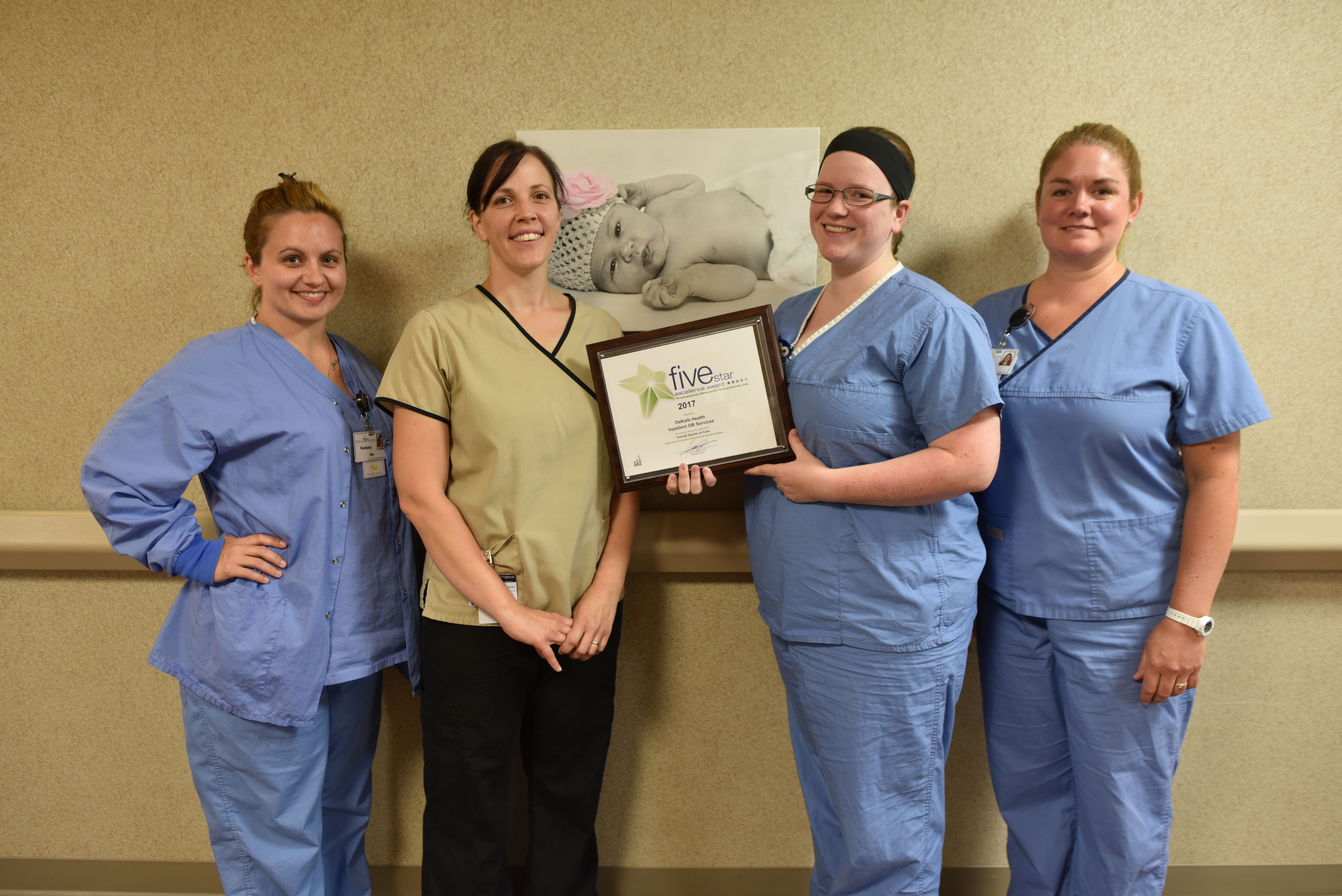 PHOTO: (Left to Right) Representing the Family BirthPlace Registered Nurses - Kelsey Olwin, Nancy Hill, Sarah King, and Sara VanAuken.
---------------------------------------------------------------------------------
ABOUT DEKALB HEALTH FAMILY BIRTHPLACE
The DeKalb Health Family Birthplace is staffed with board-certified neonatologists, pediatricians, family physicians, midwives, and a board-certified lactation consultant who are all committed to providing expert, compassionate care, and support in a welcoming environment surrounding family and friends. The Birthplace provides childbirth and breastfeeding classes, breastfeeding support group, a free prenatal vitamin program and birth planning consultations included with all-private suites. To learn more visit more at DeKalbHealth.com.
AWARDS CRITERIA
To be a PRC Five Star Excellence Award for the overall quality of care in its inpatient OB/GYN services winner, hospitals are judged against all other healthcare organizations in similar categories within PRC's nationwide databases. PRC Top Performers must score at or above the 100th percentile within their particular comparison group, while 5-Star Award Winners are identified as the top 10 percent (at or above the 90th percentile) of PRC's national client database. 4-Star Award winners are identified at the top 25 percent (between the 75th and 89th percentile). More specific awards criteria and the information is available online at www.PRConline.com/awards
ABOUT PRC
Professional Research Consultants, Inc. (PRC) is a nationally-known healthcare market research company headquartered in Omaha, Nebraska. For more than 30 years, PRC has facilitated millions of interviews, delivered insightful reports, and provided customized research solutions to hospitals and healthcare organizations. In addition to being a certified vendor for government-mandated CAHPS surveys, PRC also provides research services that measure patient experience, physician engagement and employee engagement, as well as Community Health Needs Assessments. Learn more about PRC at www.PRConline.com.