DeKalb Health Foundation presents BLOOM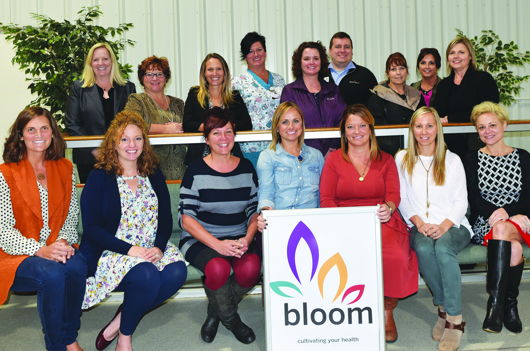 Foundation Main Page I Register Now
DeKalb Health has announced its plans to host bloom – a day to cultivate health while supporting the DeKalb Health Foundation. The event will be held Friday, February 9, 2018, from 9:30 a.m. – 4 p.m. at the Kruse Expo Center in Auburn.
Because of the generous support of The James Foundation, we are excited to announce that bloom keynote speaker will be Award-winning ABC News Anchor and #1 New York Times Best-Selling Author, Dan Harris. In an interactive presentation, Harris will explore the power—and practicality—of meditation, which he believes will be "the next public health revolution." Harris will share his thoughts on the philosophy that mental fitness will, in the not too distant future, be as socially acceptable and sought after as physical fitness.
"DeKalb Health values supporting our communities health and we know bloom will be a great opportunity to engage in this effort," shared Sarah Payne, Executive Director of the DeKalb Health Foundation. "A healthy community is important to businesses and individuals and we want to be a leader in this initiative."
Harris draws from his own experience – he discovered meditation after failing to find happiness through workaholism and substance abuse. In his bloom presentation, Harris will explore how and why some of today's most successful organizations (like the Super Bowl - winning Seattle Seahawks, Google, and even the U.S. Army, to name just a few) have incorporated meditation as a way to both improve corporate culture and boost employee performance and well-being.
Harris' presentation is just one of the special activities planned for bloom. The day will begin with a light breakfast and inspirational welcome at 9:30 a.m., followed by customizable breakout sessions that allow attendees to explore the health-related topics most central to their needs.
Lunch will be followed by a book signing opportunity with Dan Harris. The day events will also include a vendor health and wellness fair.
Events like bloom allow the DeKalb Health Foundation to continue to support the technology, infrastructure and programming needs of DeKalb Health.
DeKalb Health Foundation exists as a separate not-for-profit corporation from DeKalb Health designated by the IRS as 501(c)(3) charitable organization. A local volunteer Board of Directors from throughout the county governs the Foundation.
Tickets are $50 for open seating, and $500 for reserved tables of 8 will also be available. Electronic online ticket sales will open in the coming days. Follow DeKalb Health's Facebook page for this announcement.
To purchase tickets online or to become a sponsor, details are posted on the Foundation page on DeKalb Health's website at www.dekalbhealth.com/foundation.
For more information about the Foundation or bloom, contact Sarah Payne, DeKalb Health Foundation Executive Director, at 260.920.2048 or spayne@dekalbhealth.com.
---
Photo: bloom steering committee members show off its new logo.
Steering committee members include (front row) Ann Eidam, Natalie Taylor, Andrea Stieglitz, Jenn Gibson, Sarah Payne, Nora Schwartz, and Lis McPheeters. (back row) Terri Christiansen, Teresa Harmeyer, Amber Jackson, Michele Brock, Britte Nihart, Ethan Weikel, Brenda Seely, Tammy Baker, and Paula Amstutz. Members not pictured are Cheryle Gerig, Lana Buchs, Lisa Colberg, and Vickie Faux.