DeKalb Health Introduces the Sports Performance Institute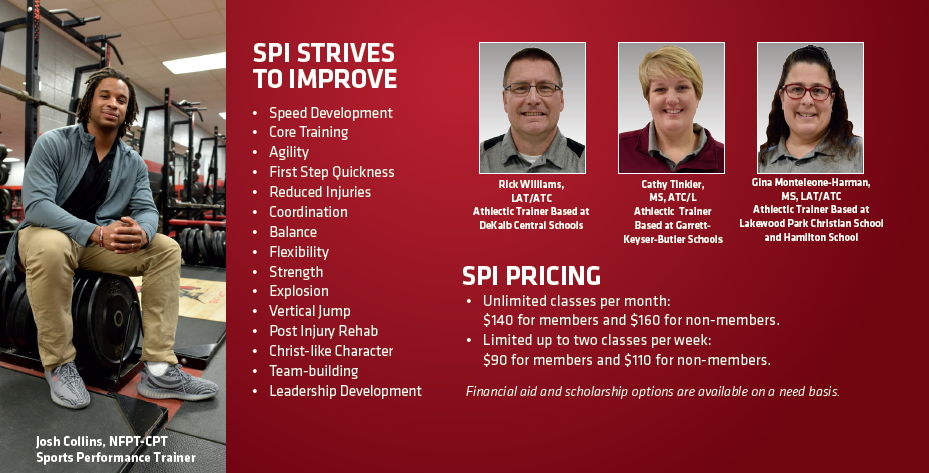 Another new year is here! For many of us, this means a renewed commitment to health and wellness. Some might target changes like more balanced meal planning, more physical movement and better sleep habits. But for our neighbors with improved physical and sports performance on their list of goals for 2018, DeKalb Health Sports Medicine has exciting news: Certified Performance Training is now available and the DeKalb Health Sports Performance Institute (SPI) is here for you!
Brought to you in partnership with and based at the YMCA of DeKalb County, the DeKalb Health Sports Performance Institute (SPI) offers an array of strength and performance training, as well as education programs. And now, with certified performance trainer Josh Collins joining our team, more area residents will have the tools they need to take steps toward reaching an even higher level of performance in their sport.
The performance trainer is an evolution of certified National Strength and Conditioning Association (NSCA) professionals that have a passion for sports performance training and training athletes while working in a business or organization not related to a collegiate or professional sports program. This specialty often includes training general fitness clients with modified performance training philosophies and methods to improve athleticism and overall wellness, and to target long-term fitness goals appropriately.
Josh Collins, NFPT-CPT, joins the DeKalb Health sports medicine team—certified athletic trainers Rick Williams,LAT/ATC, Cathy Tinkler, MS, ATC/L, and Gina Monteverdi-Harman, MS, LAT/ATC—as well as sports medicine medical director Dr. Jason Hanna and other medical professionals in place to guide and support the sports performance programs and training. As the program evolves, we will continue to look at new options to expand the sports performance team.
The DeKalb Health SPI program helps elevate specific skills and physical motion key to echelon athletic performance. Beyond broad fitness training, sports performance is catered to specific movements and activities required for each patient's individual athletic goals.
To learn more about DeKalb Health Sports Medicine Institute and our performance training programs, call the YMCA of DeKalb County at 260.925.9622.