DeKalb Health Medical Group Awarded Exemplary Status BY GLPTN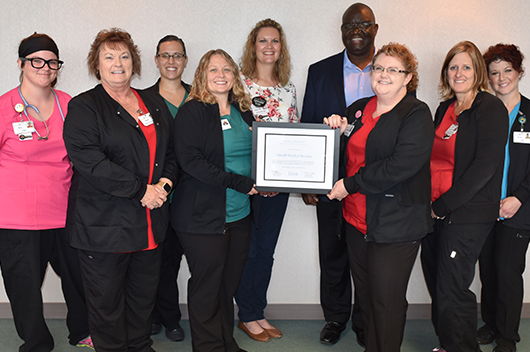 DeKalb Health Medical Group was awarded an Exemplary Status certificate from the Great Lakes Practice Transformation Network (GLPTN).
The GLPTN aims to guide 15,000+ clinicians in five states (Indiana, Illinois, Michigan, Kentucky, and Ohio) through Centers for Medicare and Medicaid -identified five phases of patient-centric practice transformation necessary to effectively participate in value-based care. They work in conjunction with partnering quality advisors to implement lean projects, monitor quality measures, and conduct a variety of activities to improve clinical care. DeKalb Health Medical Group has been a participant of the GLPTN for the last four years. Over sixty physician practices were participating from the state of Indiana.
To achieve Exemplary Status, a physician practice had to exceed notable benchmark improvement assessments for each multi-criteria measure.
"Keep up the momentum," challenged Fundisani Mangena, a senior quality advisor from Purdue Health Advisors. "Continue to make it part of the culture of the organization, improving processes one item at a time, improve the quality of care and the patient experience."
As part of the evaluation criteria, every six months DeKalb Health Medical Group answered a series of questions designed by CMS, then assessing and implementing feedback to continue toward marked improvement while progressing through multiple phases of criteria until they achieved the highest levels.
Also, DeKalb Health Medical Group had to demonstrate a marked improvement in clinical quality by reporting quarterly measures for high blood pressure control, influenza immunizations, and diabetes control.
In addition, a review was conducted to determine if the physician practices were emphasizing a patient-centered culture and patient and family engagement.
For more information visit http://glptn.org/
PHOTO: Representatives of DeKalb Health Medical Group accept the GLPTN award Mary Eyster, Penny Ternet, Britney Fuentes, Athena Madden, Kelly Brown, Fundisani Mangena, Senior Quality Advisor Purdue Health Advisors, Sue Moore, Amy Tropp, and Sarah Coffield.
----------------
DeKalb Health Medical Group (DHMG) is comprised of 21 Primary Care providers who provide exemplary quality patient care as part of DeKalb Health, a not-for-profit, independent rural hospital. DeKalb Health is located in Northeast Indiana. DHMG has eight office locations consisting of Pediatric and Family Medicine providers, who are enrolled in GLPTN, providing approximately 69,000 patient visits last year. DHMG serves -patients from DeKalb County and the surrounding counties. DHMG as part of a not-for-profit organization serves a mix of Medicare, Medicaid, and Commercial patients. DHMG is continuously striving to improve the patient experience, reduce costs by reducing 30-day readmissions, as well as continuing to set quality indicator goals to encourage growth and improved patient outcomes.