DeKalb Health Medical Group's Butler Clinic Adds To Staff

BUTLER — Nurse practitioners Jessica Sleesman-Vitt, FNP-C and Natasha Subramaniam, FNP-C followed different paths before joining DeKalb Health Medical Group Butler as nurse practitioners.
Sleesman-Vitt joined DeKalb Health in July 2013 and came to the Butler clinic at 409 E. Washington St. in June 2017. Subramaniam joined the clinic in April, and worked in the emergency room at DeKalb Health from 2009 to 2012.
Sleesman-Vitt earned her undergraduate and master's degrees from the University of Saint Francis. Subramaniam earned undergraduate degrees from Kellogg Community College in Battle Creek and Indiana Wesleyan University in Marion. She earned her master's degree at Walden University in Minneapolis, Minnesota.
Both specialize in family medicine and are certified by the American Academy of Nurse Practitioners.
Forensic science investigation was Sleesman-Vitt's first choice, but she said there weren't schools offering that course. As a nurse, she discovered that she enjoyed taking care of people.
"When you're in the hospital, there were times you actually got to spend time with a patient," Sleesman-Vitt said. "The hospitals have gotten so busy, so I felt I wasn't able to do that one-on-one care as well as I wanted to.
"I decided to go back to school to become a nurse practitioner," she explained. "I enjoy that because I do get that one-on-one time with my patients." She has emergency room, neurology and clinic experience.
"I actually wanted to be a counselor or a psychiatrist," Subramaniam said. In college, however, she became involved in the nursing program, and she started a new path.
"I fell in love with it," she said. "I worked in the hospital for almost 10 years working in the ER. I loved the fast pace of the ER, the traumas, treating critical patients, but I also loved the one-on-one time I got to spend with patients.
"I really craved having more autonomy, being able to make some of the calls when I see fit," Subramaniam said. "I went back and got my master's, and here I am. I love it, and I'm glad I'm not a psychiatrist."
Sleesman-Vitt is married with one child. "When I was an RN, I didn't have children," she said. "Now, having a child, I've found I can relate to patients a lot more, especially pediatrics, because I've experienced what they're experiencing. It's just easier to communicate."
Subramaniam is married and has three sons. She is working to complete her doctorate. Away from the medical field, she enjoys attending concerts and gardening.
There is a laboratory facility at the clinic open during office hours, 8 a.m. to 4:30 p.m. Monday through Friday. In addition to Sleesman-Vitt and Subramaniam, staff includes Jennifer Molina, Dawn Nash, Susie Pinkston, Nicole Rohrbach, Stacy Stuller and Andria Tipton.
Nurse practitioners are licensed as advanced practicing nurses and registered nurses and must complete regular training requirements, Subramaniam explained.
Differences, she explained, are that physicians are trained on the medical model, where nurses are trained on the nursing model with holistic principles.
"If I'm prescribing a medication, can you afford it? Can you take the medication? Does it go against any religious beliefs?" Subramaniam said. "Those are things physicians typically don't think about because they weren't trained to think that way.
"We do collaborate with physicians, so if there's ever something we can't handle, we have physicians with a lot of experience that we can ask questions to that serve as resources to us."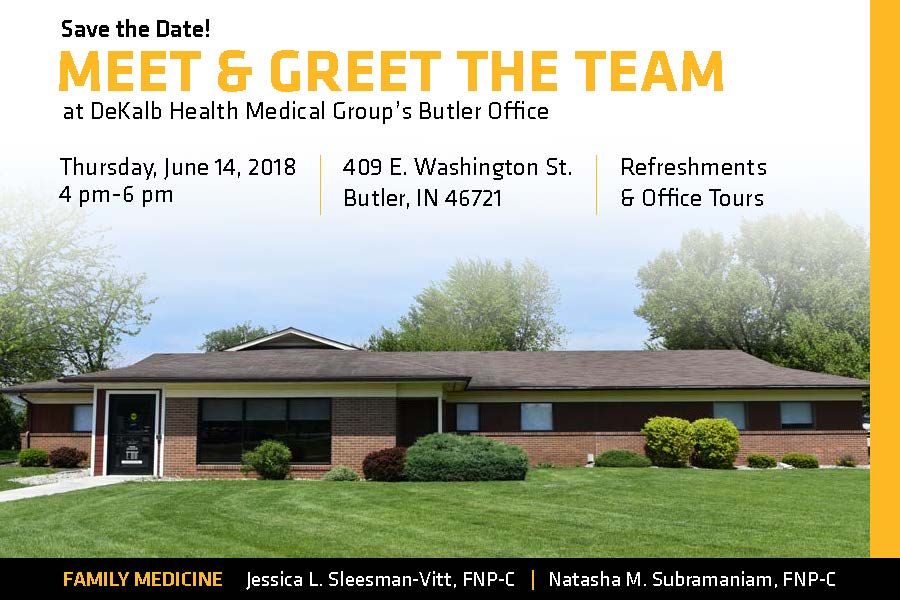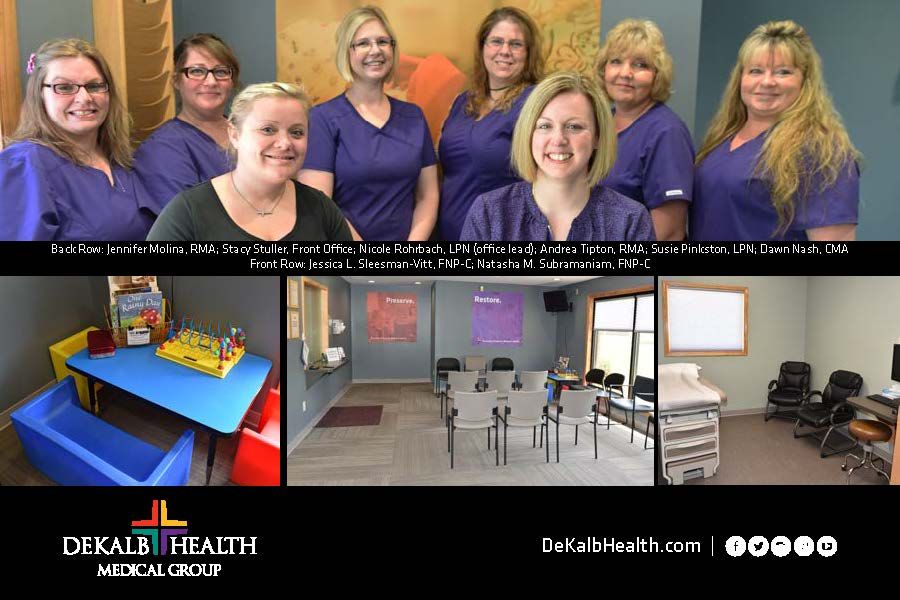 Back row (left to right):
Jennifer Molina, RMA; Stacy Stuller, Front Office; Nicole Rohrbach, LPN (office lead); Andrea Tipton, RMA; Susie Pinkston, LPN; Dawn Nash, CMA