Eastside Senior Wins Essay Contest to Job Shadow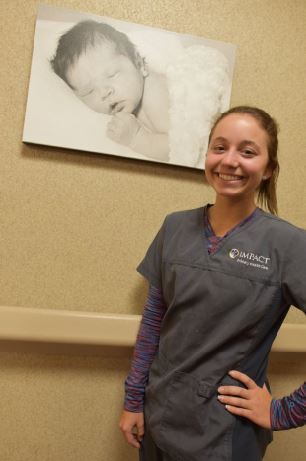 Through Junior Achievement's, the Schwab Foundation offered an essay contest where the winning student would receive a job shadow opportunity, $100 and recognition at the JA spring reception in Fort Wayne.
A 2018 senior at East Side High School Karagan Kierly, learned of the essay contest through her JA Class Room Career Success and teacher Bobbi Moughler.
It was Karagan's essay on nursing that earned her an opportunity to shadow at the Family Birthplace of DeKalb Health and learn more about the career she expressed an interest in pursuing.
Her job shadow experience consisted of spending between 4-6 hours observing the work of the Obstetrics department nursing team, physicians and midwives.
ABOUT JA: Junior Achievement life skills classes are open to pre-K to 12th-grade students. The Fort Wayne area JA boasts one of the highest market penetrations in the nation, including a service area of 27 counties and 140,000 students. 5,500 students participate in DeKalb County alone.
Photo: Karagan Kierly stands in the Family Birthplace at DeKalb Health prior to beginning her job shadow in the OB department.