Emergency Department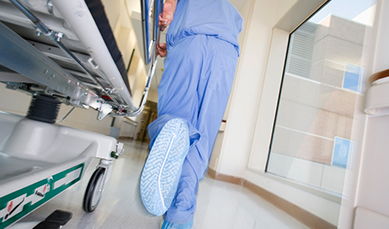 With newly expanded facilities, DeKalb Health is advancing the care we deliver to our patients and our community. Perhaps the best example of this is our Emergency Department, a state-of-the-art centerpiece of our campus expansion.


Dedicated Space
DeKalb Health's 15,000-sq.-ft. emergency department offers comprehensive, private care in a state-of-the-art setting. However, the emergency department is driven by the personal, compassionate care provided by our staff and our partners, Professional Emergency Physicians. 13 all-private exam and treatment rooms are housed in the emergency department, including:
Trauma room
Two cardiac care rooms
OB/GYN rooms
Orthopedics room
Hazmat shower
Ear, nose, and throat (ENT) room
Secure treatment space for patients with mental illness or development disabilities


Technological advances
The ER at DeKalb Health offers patients and staff the latest in technological innovation and care. Computers in every room, for example, ensure medical staff immediate and secure access to electronic medical records. In addition, a digital tracking board provides doctors and nurses with real-time communications and status updates regarding patient care and needs. Brand-new, state-of-the-art cardiac monitoring systems enable nursing staff and cardiologists to instantaneously monitor patient heart rhythms from a central location. Each patient bed features built-in digital scales, which can weigh patients immediately and allow for accurate calculation of medicine dosages. And a one-call system will provide quicker, direct access to area tertiary facilities.


Center of it all
At the heart of our new ER is a spacious, centrally located nurses' station. Designed to optimize and enhance workflow and patient monitoring, the nurse's station put all levels of treatment rooms within direct view of nurses. Combined with the technological advances, the new ER at DeKalb Health offers patients the utmost in care, convenience, and privacy.


Registration, simplified
Upon arrival at the new DeKalb Health ER, patients enter a triage room where their condition will be assessed. In addition, processes are in place for bedside registration, and immediate bedding will take place when situations dictate. Two new waiting areas – a general area and a family/pediatric area – provide plenty of space, comfort, and convenience for family and friends of patients.


Stroke Care Now Network
DeKalb Health is a proud member hospital of the Stroke Care Now Network (SCNN). The SCNN provides a dedicated iPad to be kept in the emergency rooms of member hospitals at all times and also ensures that a skilled FWNC neurologist is available 24 hours a day, 7 days a week in case of stroke emergencies. When such stroke emergencies do occur, SCNN uses telemedicine technology via the iPad and a dedicated app to connect FWNC neurologists with emergency room and hospital staff and ensure the quickest and most comprehensive care possible for that patient.
Locations