DeKalb Health NPs Met With State Rep. Ben Smaltz In Honor Of National Nurse Practitioner Week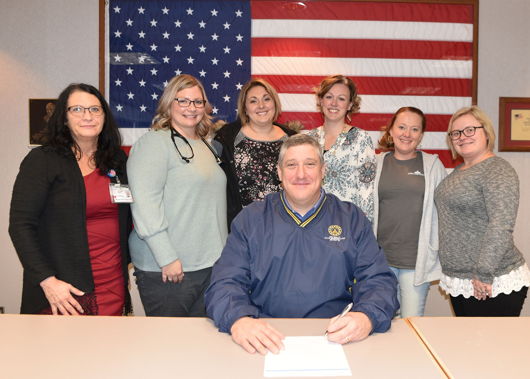 In honor of National Nurse Practitioners Week, State Representative (District #52) Ben Smaltz conducted a listening forum with the NPs at DeKalb Health and signed an official proclamation recognizing November 11th-17th as National Nurse Practitioners Week in the State of Indiana.
Pictured with Representative Smaltz is (from left) Gretchen H. Jenkins, CNM, FNP-C, Lyndi A. Bienz, NP-C, Natasha M. Subramaniam, FNP-C, Kristi A. King, NP-C, and Jessica L. Sleesman-Vitt, FNP-C.
Not available for photo were Delaney R. Baumann, NP-C, Becky Drerup, NP-C, Inesa V. MakeVit, NP-C, Joy L. Martin, FNP-BC, Jodi L. Strock, FNP-C, Jody M. Trent, CPNP, and Caitlin N. Yoder, NP-C.
---
Watch our video now to learn about what a Nurse Practitioner does and the important role they play in patient care at DeKalb Health, across the US, and the globe.