PharmaCare Pharmacy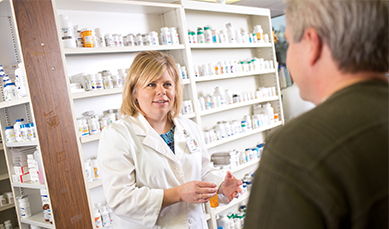 Since 1992, DeKalb Health PharmaCare has been a tremendous asset to the community, providing complete pharmaceutical services on the DeKalb Health campus. The hospital recently completed its acquisition of DeKalb PharmaCare, ensuring that the pharmacy's services will continue uninterrupted with the same familiar staff.
PharmaCare is a full-service retail pharmacy, featuring over-the-counter items, vitamins and natural supplements, orthopedic supports and breastfeeding supplies. DeKalb Health PharmaCare also offers prescription compounding and customized medications for those seeking to avoid sugar, preservatives, dye or lactose. For those that don't like the taste of their medicine, the pharmacists can flavor pediatric and other liquid medications, even compounding veterinary medications to meet your pet's needs.
DeKalb Health PharmaCare accepts e-prescriptions from area providers; for those in other communities in DeKalb County, PharmaCare offers even more convenience in the form of free prescription delivery to the Auburn, Garrett, and Waterloo areas and NEW - we now deliver in Butler:
Free daily delivery in Butler now available. Mondays – Fridays (not available on Saturdays, Sundays, Holidays)

Applies to prescription deliveries inside the Butler city limits

We also accept all Indiana Medicaid and HIP plans, and almost all insurance plans are accepted, including Medicare Part D and Medicaid.
Transferring Rx's from your current pharmacy is easy! Just provide us with the name and phone number of your current pharmacy as well as your prescription numbers, personal and insurance information, and we'll take care of the rest.
Now serving the residents of northeast Indiana in two convenient locations;
Auburn (Located on the DeKalb Health Main Campus, Parking Lot E, Enter Door #40)
1314 East Seventh Street, Suite 104
Auburn, Indiana 46706
Mon, Tue, Thu, Fri......9 am–6 pm
Wed.............................7 am–6 pm
Sat ..............................9 am-noon
P: 260.925.8000 | F: 260.925.9500
Garrett (Located inside Miller's Supermarket)
1350 South Randolph Street
Garrett, Indiana 46738
Mon-Fri......................9 am–6 pm
Sat .............................9 am-noon
P: 260.553.9200 | F: 260.553.9201
Locations