Postpartum Recovery: What to Expect and How to Make it Easier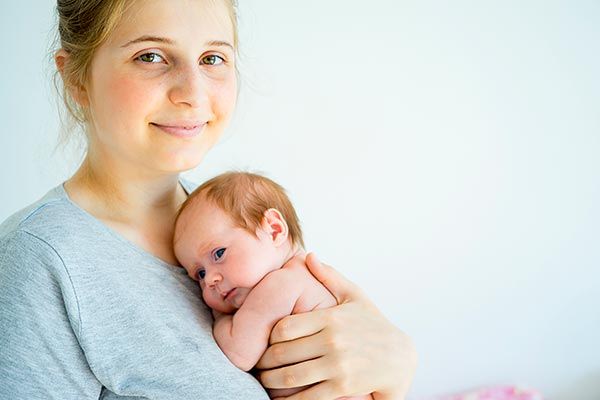 You've eaten right, exercised, taken prenatal education classes, read "What to Expect When You're Expecting" cover-to-cover three times, and talked to everyone you know who's ever given birth, from your college best friend to your mother. After all of it, you still aren't sure you're ready to give birth, much less well-prepared for what comes after. DeKalb Health knows the joys, concerns, and anxiety that come with childbirth. Our obstetrics department has helped countless women from prenatal care through to birth and postpartum care. We know there are ways to ease your postpartum recovery.
The Recovery Period
The first thing to remember is that "normal" recovery is highly relative. Some women recover from vaginal birth or a C-section in six to eight weeks. Others take far longer before they feel like themselves again. Falling somewhere outside that baseline is far more common than you'd think. Speak to your obstetrician and general practitioner so you know which day-to-day problems are part of the natural course of recovery and which are cause for concern. Here are a few other areas to keep in mind.
Pain Management
Ice, donut pillows, and Dermoplast will be your best friends for the next several weeks. But also talk to your obstetrician about pain management, especially if you're breastfeeding.
Accept Help…
Grandparents, family, friends, and neighbors will all offer help in the days ahead. Take it. The rest and the love with which you'll be surrounded will do you and your little one a world of good.
…But Set Boundaries
At the same time, those loved ones may want more of your time than you're able to give. It's hard to get quality rest, or to bond with your new baby, if you've got the entire family around you, cooing over you and your baby and offering well-intentioned, often contradictory, and usually unsolicited advice. You're not a bad mom if you ask for some alone time!
Sleep
Just because your sleep patterns aren't what they once were, you're not condemned to an endless cycle of sleeplessness and crankiness. Take naps and time your sleep schedule with baby's sleep schedule.
Nutrition
Whether or not you choose breastfeeding (and whether or not you're able), proper nutrition matters. Keep well-hydrated, stock up on healthy snacks, and try to get yourself on a "feeding" schedule too.
Self-Care
Repeat after us: self-care is not selfish. Take time during the day to get some sunlight, read a book, and catch up on your favorite shows and movies. Once you're feeling up to it, get out and get social; connect with other new moms and form a support system. And once you're medically cleared, get out and get active at the gym or in a fitness class — it has less to do with getting back your pre-baby body than it does about getting those endorphins flowing, and getting back to feeling good about the body you're in.
Postpartum Depression
For something we don't talk about nearly enough, postpartum depression is extremely common. Medical News Today quotes a study from the Harvard Review of Psychiatry, which found:
In women who were receiving medical care, 50% of patients experienced depression for more than 1 year after childbirth. The review also found that in women who were not receiving clinical treatment, 30% of women with postpartum depression were still depressed up to 3 years after giving birth.
Fatigue, mood swings, and anxiety are common after giving birth. You're exhausted, you're achy, emotions are running high, and it doesn't help that sleep is but a distant memory. A pre-pregnancy history of depression, a partner who's not present or is emotionally unavailable, and a host of other factors can indicate if you may be more prone to postpartum depression. If you experience persistent depression, reach out for help. If the statistics tell us anything, it's that your experience is not uncommon and that you are not alone. Nor is there shame in taking care of yourself!
Schedule an Appointment with the Family BirthPlace at DeKalb Health.
Wherever you are in your journey — trying to conceive, seeking prenatal care, looking for the right obstetrician, or navigating the postpartum recovery — you're not alone. Family BirthPlace at DeKalb Health is here to help. Contact us today 260.920.2510!
Nothing contained in this blog is intended to establish a physician-patient relationship, to replace the services of a trained physician or health care professional, or otherwise to be a substitute for professional medical advice, diagnosis, or treatment.