The Top Reasons Why Adults Need to Get Flu Shots Too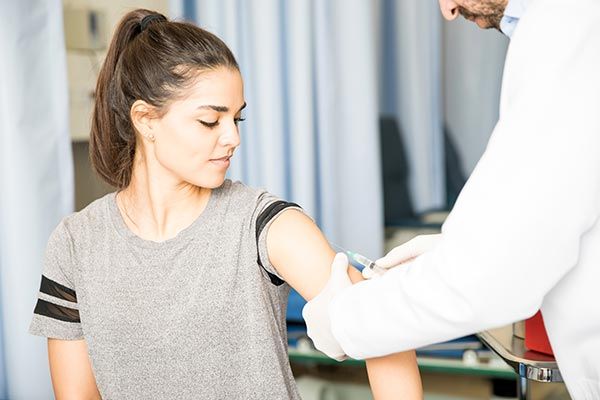 Nobody looks forward to the flu season. The possibility of spending days on end feeling achy, stuffy, nauseous, and feverish isn't even the worst of it. Harvard Medical School estimates that 200,000 people in the United States will be hospitalized annually because of the flu, and up to 36,000 deaths per year can be attributed to the virus. While young children and adults age 65 and older are at the greatest risk for emergency room visits, severe complications, and even premature death, the fact is that nearly every adult benefits from flu shots. DeKalb Health has not only the vaccinations but also the information you need to stay safe.
Let's address some common concerns around the flu vaccine.
What the Flu Is
The flu, or influenza, is caused by viruses. It's highly contagious, spread by coughing, sneezing, or close contact. It's possible for individuals who are asymptomatic to have and spread the virus. It causes many symptoms, including sore throat, fever, cough, runny nose, fatigue, and muscle aches, and can lead to other complications — like pneumonia — if left untreated.
When and Why to Get Vaccinated
Flu season normally lasts from October to May. It's best to be vaccinated ahead of time, but better late than never. The vaccine can prevent you from getting the flu, and if you come down with a strain that wasn't in your vaccine, the vaccination can still make the severity and duration shorter. You're also less likely to spread the flu to family members.
Why Annual Vaccines Matter
Influenza isn't a single virus. There are multiple strains, not all of which will be active in a given flu season. Furthermore, these viruses evolve and mutate over time, so having been vaccinated against a strain earlier in life may not guarantee immunity from one season to the next.
Flu Shot Side Effects
Most vaccines have some side effects, and the flu vaccine is no exception. Soreness or redness around the injection site is common. So, too, are aches, headache, fatigue, a slight fever, or a cough. Their duration should be short and mild — no more than a day or two — but you should consult with your physician if the side effects are especially severe or long-lasting.
Flu Vaccine Safety
The flu vaccine has been proven safe. The CDC has a VIS, or Vaccine Information Statement, for the flu vaccine that covers the essentials, and your healthcare provider will be happy to give you more information or to answer any questions you may have.
Should Everyone Get a Flu Shot?
By now it should be clear that we are advocates for the health and safety benefits of the flu vaccine. However, per the Centers for Disease Control (CDC), some people should not be vaccinated. These include:
Children younger than six months old

People allergic to the flu vaccine or its ingredients

Certain individuals who have had Guillain-Barré Syndrome

In addition, if you are presently ill or are pregnant, your doctor may choose to either wait on the vaccine or may choose an alternate version of the vaccine

Get a Flu Vaccination with DeKalb Health Medical Group
Whether you have questions about the flu vaccine or you're ready to roll up your sleeve and get your shot, call DeKalb Health. We're here for your flu vaccination and a host of other health and wellness needs. Contact your DeKalb Health Medical Group provider for an appointment.
Nothing contained in this blog is intended to establish a physician-patient relationship, to replace the services of a trained physician or health care professional, or otherwise to be a substitute for professional medical advice, diagnosis, or treatment.