Visitors Information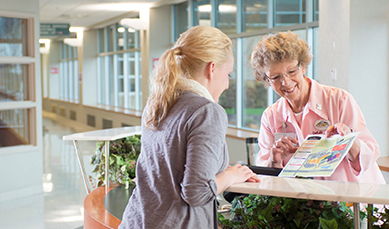 Plan Your Visit to Parkview DeKalb Hospital
We want your visit to Parkview DeKalb Hospital to be an enjoyable, stress-free experience. Before you visit, please browse this section for information, or contact us with any questions you may have.
Since Parkview DeKalb Hospital opened its doors in 1964, the hospital has made great strides through numerous expansions and renovations, so be sure to download a map with directions before you visit. Members of our community are always welcome to dine at our popular Courtyard Café or stop at the Snack Bar & Grill. Don't forget to peek into the gift shop to select a beautiful bouquet or one of our many unique gifts.
Map & Directions - View color-coded map with department locations, parking information, and directions to campus.
Dining - Dine at our delicious Courtyard Café, located on the first floor of the hospital, or stop at the Snack Bar & Grill.
Phone List - Access phone numbers for services and frequently called numbers.